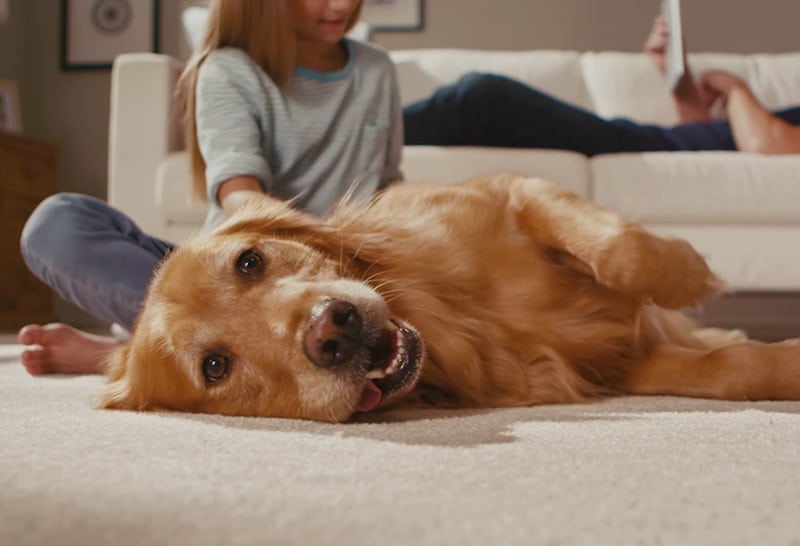 When you're looking for new floors, you want to make sure they are the best choice for every member of your family – even the four-legged ones. Pet owners, in particular, have a few extra issues to keep in mind when choosing pet friendly flooring.
The best floors for your pets will be:
Easy to clean
Scratch resistant
Stain resistant
Textured for traction
We've pulled together some flooring options as well as descriptions of their level of pet friendliness below.
Pet Friendly Carpet Flooring
While your furry friends may love the luxurious feel of carpeting, your human guests may not enjoy the allergens that may collect or the difficulty of cleaning up the messes pets can leave behind. But, that doesn't mean carpet is out altogether.
There are plenty of pet-friendly carpet options that will work in a low-traffic area like a bedroom. There are just a couple of things that pet owners should look out for when selecting carpeting.
First, choose a carpet without loops – a cut pile carpet. Placing looped carpets like Berber in a home with pets is a recipe for damage – to the carpet and your pets claws. Finally, make sure the cut pile carpet you select has been pre-treated for stain resistance. Clean ups will be easier, pet hair will come up better when you vacuum, and fewer odors will cling to the carpeting.
Pet Friendly Hardwood Flooring
Hardwood floors give your home a warm, welcoming feel. They are great for keeping allergens under control, but they may not always be the best choice for homes with pets. Many hardwood floors can be susceptible to stains and scratches, but there are still options for pet owners who love hardwood floors.
When it comes to pet friendly hardwood flooring, the harder the wood, the better it will be at resisting scratches. Wood floors like oak, maple, walnut and bamboo are harder and more pet friendly. Homeowners with large animals should avoid softer woods like pine or chestnut.
You can also preserve your new floors from pet-related damage with a high quality coat of urethane, to offer extra protection from scratches and stains.
Pet Friendly Laminate Flooring
Laminate flooring can bring the look of hardwood into your home, with the added benefit of stain and scratch resistance. Easy to clean and durable, laminate flooring can be very pet friendly with one important caveat: traction. Many laminate floors available to homeowners are slick and smooth, which can make it difficult for your pet to maintain its footing and can lead to injury. So, if you're looking for a pet friendly laminate flooring option, you will want to select laminate floors with a textured surface to prevent slipping.
Pet Friendly Tile Flooring
Tile floors, especially stone tiles, are a wonderful choice for homes with pets. These hard surfaces won't be damaged by your pets' claws, are water and stain resistant, and are exceptionally easy to clean. You have the option to use coarser stone tile floors or ceramic tile with a textured finish to aid with traction. You could even select faux wood tiles to get the look of wood, but still have the ultimate pet-friendly flooring.
With tile and any hard surfaced pet-friendly flooring options, you want to make sure you make good use of rugs and pet beds so that your furry friends have places to lay down comfortably.
If you have more questions about finding the perfect pet friendly flooring for your home schedule your schedule your free consultation today.
https://www.tampaflooringcompany.com/wp-content/uploads/2015/10/GMF-Blog-Pet-Friendly-Flooring.jpg
546
800
Thais Sousa
/wp-content/uploads/2017/12/gomobileflooring-logo-new-small.png
Thais Sousa
2015-09-28 15:11:58
2017-07-18 15:22:31
Buyer's Guide: Pet Friendly Flooring