Today there are many options to consider when you decide to upgrade your kitchen with modern cabinetry. If you watch any of the popular TV shows about restoring, renovating, flipping, or purchasing homes, you will notice how quickly the customers react when they view the kitchen of a potential new home. Often the first thing they react to is the type of cabinets in the kitchen and say things like, "that needs to go," "that is so the '80's," "that's too gaudy," etc.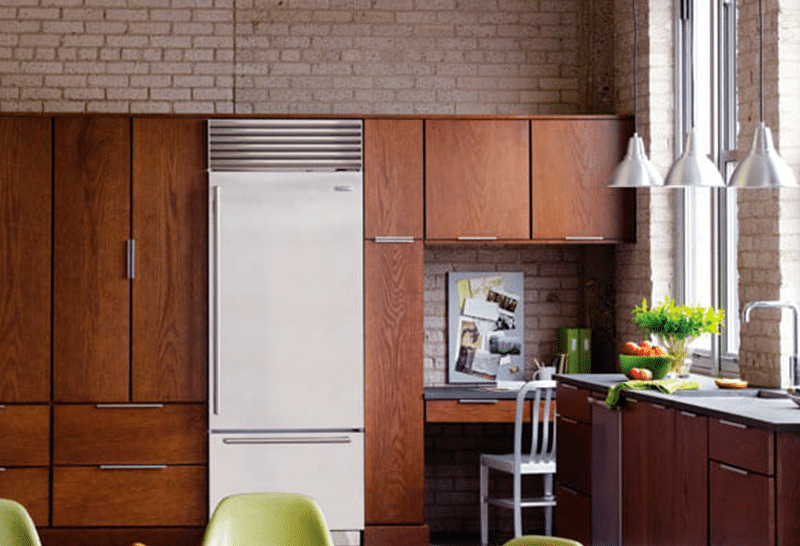 "Modern" means different things to different people, possibly to all people. Remember that when people react to out-dated cabinets from a past era, at the time of installation they were probably the most modern and trending looks.  It usually has to do with time. That's why it is important to think in terms of TIMELESS qualities.
To help you think this through, consider these five aspects: styles, colors, materials, functionality, and costs.
Modern Cabinetry STYLES
Style is a very subjective thing. You have to decide what is appealing and beautiful in your home. After all, you and your family are the people using the kitchen and the cabinets every day. If you want modern cabinetry in your home, be sure the style fits the appliances and the rest of the decor in the room. If you achieve that, you will be happy.
Modern Kitchens are stylish and bold. They can be described as minimalist, and geometric.
– Kitchen & Bath Source
Modern Cabinetry COLORS
There is nothing worse than gaudy, bright colors when it comes to cabinets. Having said that, there are still many options when it comes to color, tint, grain, texture, and sheen. As you consider what sort of modern cabinetry is best for your home, takes these into consideration.
Modern Cabinetry MATERIALS
Is real wood important to you? Or is wood something you want to avoid. Options for the materials in modern cabinetry include wood, laminate, steel, polymer glass, high-gloss, and matte surfaces.
Modern Cabinetry FUNCTIONALITY
Obviously your modern cabinetry is supposed to serve a purpose. It's not just there for aesthetic reasons; the kitchen is not just a room for modern sculptures. I know a young woman who had a beautiful apartment with very stylish cabinets. They slanted upwards and looked very cool. One slight problem – the dishes could only be placed on the top shelf nearly out of her reach.
So it makes sense to inventory your cooking needs and the utensils you keep. Consider where you will store the dishes, silverware, pots, pans, etc. A wise person thinks ahead!
Modern Cabinetry COSTS
It goes without saying that pure oak cabinets will cost much more than cabinets made from composite materials. Steel or glass might be even more of an investment. So as you compare and contrast, be sure to know the dimensions (Height, Width, Depth) to figure out the cubic volume (HxWxD). This may seem trivial, but it's better than finding later that there is no place to put your pots. Know the placement and know the installation prices. Specialized fitting could add to the cost of your upgrade.
Imagine a gorgeous kitchen with sleek lines and spacious storage. Envision it as one of the most desirable areas in your home. And don't forget that modern cabinetry can be one of the best choices you make to add to the value (and re-sale value) of your home. You'll surely enjoy making a delicious meal for your family in that room. Oh yeah – and what fun it will be to sit down to eat together with a view of your new cabinets!
https://www.tampaflooringcompany.com/wp-content/uploads/2016/11/GMF-Blog-Cabinetry-Modern-Approaches-.png
546
800
Thais Sousa
/wp-content/uploads/2017/12/gomobileflooring-logo-new-small.png
Thais Sousa
2016-11-15 02:52:51
2017-07-24 10:21:22
Modern Cabinetry