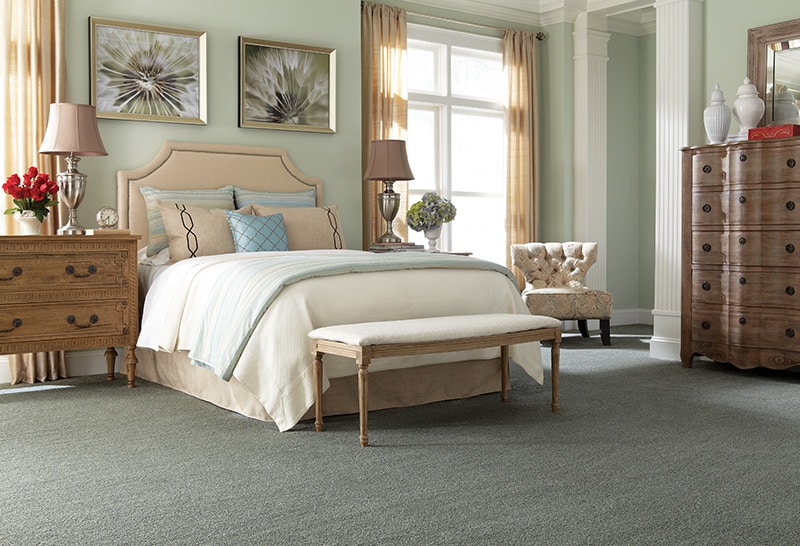 Deciding on a carpet floor for your home can be a difficult decision. Today that are many options for fibers, stain resistant, color and budget. During a remodel of your bedroom these are all factors that can make this a stressful process. Fortunately, we have listed a few of the options below to help you in making certain that you find the best carpet installation advice possible.
Questions to keep in mind:
Is the carpet stain and wear resistant?
Are the installers also providing my carpet?
Is anyone in the home allergic to the fibers I am selecting?
How easy will it be to clean my carpet?
What is my budget?
The right carpet fiber for your home
You have two typical options: Natural or synthetic. A carpet made of wool is great for a bedroom due to it luxurious feel and warmth. This is a natural fiber and although it will add to the budget, it is worth it when it comes to warming a room and adding the right feel to a guest or master bedroom. Nylon is synthetic yet typically more costly of the softer feeling carpets. However, a typically options for budget friendly synthetic would be polyester. Polyester is an ideal choice due to it also being nonallergenic.
Stain resistant carpet for your bedroom
Ideally, you should choose a SmartStrand Sorona or Silk have built-in stain resistant carpet properties (we carry these type of carpet's by Mohawk). These also provide some elements of dirt protection, which in turn yields wear resistance. Try to remember that dirt, stains and grime lead to wear and tear on your carpet. So by getting a resistance carpet you are also adding value to the life of your carpet. The SmartStrand Silk has a new yarn with three times the amount of fiber found in a traditional nylon carpet. This in turn helps sound dampening for your home. These carpets are ideal for a bedroom and add the needed warmth and luxury.
What should my budget be for my new carpet floor?
Your budget for your carpet flooring project does depend on a few items: the size of your space and whether you want natural or synthetic? Click here for a free quote on your space. We do recommend stain resistant carpet SmartStrand due to the luxurious feel and the costs. The SmartStrand Silk (Mohawk) is preferred 5 to 1 over competitive premium soft nylons.
If you have more questions about finding your perfect, warm and affordable carpet flooring for your home schedule your free consultation today.
https://www.tampaflooringcompany.com/wp-content/uploads/2015/10/GMF-Blog-Add-Warmth-Your-Home-Bedroom-Carpet.jpg
546
800
Thais Sousa
/wp-content/uploads/2017/12/gomobileflooring-logo-new-small.png
Thais Sousa
2015-10-12 14:26:23
2019-08-08 14:11:54
Add Warmth to Your Home with the Perfect Stain Resistant Carpet