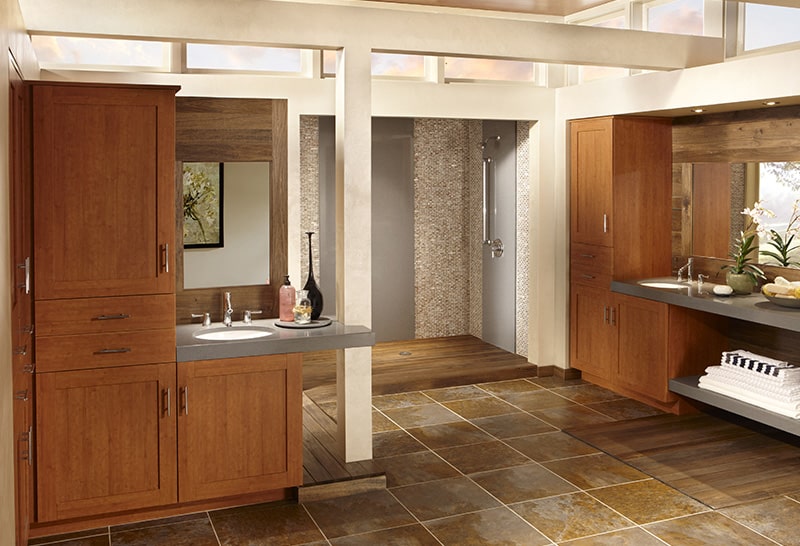 If you're considering a bathroom remodel, take some time to consider the flooring that's right for your room. A well-designed bathroom can add to the elegance and functionality of your home for both your family and guests – and any good design must start with a solid foundation.
Selecting your bathroom floors require more thought than many people assume. There are the normal questions of style and look that you want to address for any new floor in your home. For your bathroom remodel, you'll want to add questions of functionality to that list. Will your new bathroom flooring hold up to water, heat, moisture and wear? There are also the less obvious questions like, how will the new bathroom floor feel to bare feet on a cold morning? Is there enough texture to avoid slips or falls? How long will my bathroom floor installation take? And are the costs within budget? Finally, you'll want to ask yourself, will my new bathroom floor stand the test of time beautifully?
Your Bathroom Remodel
To complete your bathroom remodel, you want floors that provide you with the beauty, functionality, and longevity your home deserves in a style that is uniquely you. That's why we've put together this quick guide of the top bathroom flooring options available to homeowners like you – so you can make the best flooring decision for your home.
Ceramic Tile Floors
Ceramic tile floors are often the number one choice for most bathroom remodel projects – and for good reason. Available in a wide variety of styles, sizes, and designs, ceramic tile is affordable, versatile, durable, and can be textured to prevent slips. Ceramic tile is also waterproof, making it an ideal for bathrooms. Homeowners can choose from large square tiles to mosaic that come pre-set on mesh sheets for ease of installation.
Porcelain Tile Floors
Porcelain tiles are harder and stronger than ceramic tiles, and through-bodied porcelain tiles are the same color throughout, making chips or scratches difficult to notice. Also available in a wide variety of colors and styles, this tile's stain and water resistance make it a great flooring choice for your bathroom remodel, and its porousness make it a good match for radiant in-floor heating.
Natural Stone Flooring
Another wonderful set of water resistant surfaces to consider for your bathroom floor are natural stone flooring options. Great for warmer climates, naturally cool surfaces like granite, slate, marble, and travertine are always a beautiful addition to your home. When selecting your stone, consider the smoothness of the surface and whether or not you may want to sandblast the stone in order to create a more textured floor. Also, while granite and slate are non-porous and low maintenance, stones like marble and travertine will require sealants and frequent cleaning to avoid staining.
Wood Floor Options
Wood flooring is last on our list for your bathroom remodel options because hardwood and water just don't mix. However, if you have your heart set on wood, there are ways to have the bathroom floors you want, minus the potential water damage.
Hardwood
One option is that you can have the hardwood floors sealed and finished AFTER installation. While prefinished floors may provide a more pleasant flooring installation process, there will still be small cracks and grooves between the planks of wood where moisture can creep in. Hiring professionals to install unfinished wood and finish your bathroom floors after installation will ensure that everything is sealed and water tight, greatly diminishing the chances of water damage in your floors.
Engineered Wood
Another option you have for wood floors in your bathroom is engineered wood. With a water-resistant plywood base, these floors offer longevity for your bathroom floors as well as a real-wood surface that will give you a look that you love.
Faux Wood Tiles
Finally, the safest option for a completely water-safe but wood-look floor for your bathroom floors will take us full circle to our top bathroom flooring choices – faux wood tiles. Scratch-proof, water-proof, and low maintenance, faux wood tiles offer you all of the benefits of ceramic or porcelain tiles, plus the beauty and elegant look of hardwood.
Your bathroom floors do a lot of work for your home. As you remodel this room, it's important to choose flooring that has both the look and feel you want, as well as the durability and functionality you need for this high-traffic room.
This post was written by Thais Sousa. Follow Thais on Google.
https://www.tampaflooringcompany.com/wp-content/uploads/2015/09/GMF-Blog-Find-Right-Flooring-Bathroom-Remodel.jpg
546
800
Thais Sousa
/wp-content/uploads/2017/12/gomobileflooring-logo-new-small.png
Thais Sousa
2015-09-21 16:05:35
2017-07-18 15:22:31
Find the Right Flooring for Your Bathroom Remodel