Hardwood is one of the most desirable of all flooring surfaces. But the obvious question is whether or not bathroom hardwood flooring is a good idea? The environment in a bathroom is much different than the rest of the home. Humidity, moisture, water splashes, and spills can do severe damage to wood.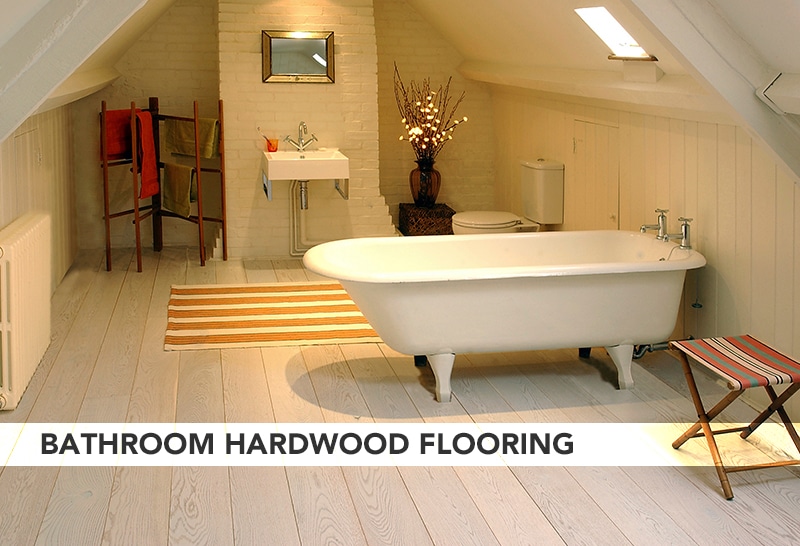 Some people in the industry would steer you away from bathroom hardwood flooring and recommend engineered wood.
Faux-hardwood surfaces – floors that imitate the look of real wood so well it's nearly impossible to tell the difference – will work well. Many vinyl based floors can be matched to the look of hardwood quite nicely so that your faux-hardwood floor will appear nearly indistinguishable from the real wood
Remember that solid hardwood and engineered hardwood are still both consider to be REAL hardwood. Don't let that word "faux" fool you.
The fact is that you absolutely can install hardwood flooring in bathrooms but there are common sense choices that need to be made:
Type of Wood for Bathroom Hardwood Flooring
Do NOT use:
These are woods that are very absorbent softwoods that are more likely to be damaged by exposure to water or moisture.
These are the woods you SHOULD use:
Oak
Cherry
Cedar
Maple
Ash
Hickory
Walnut
Using the right materials is always the best advice for any type of project.
Finishing for Bathroom Hardwood Flooring
Any of the above mentioned woods in their natural, unprotected condition are vulnerable to water damage. Application of a finishing agent is a necessary precaution to keep your floor beautiful and enduring.
The most common finish is polyurethane based sealers. It seals the wood and provides a protective coat. The ultimate type would be a marine grade sealant that is designed for outdoor exposure. It is critical to apply the coating several times and especially where joints or seams are present.
Maintenance for Bathroom Hardwood Flooring
Protective sealant can be re-applied as it ages, giving extended life. Mats and throw rugs can collect water after someone showers, but it is not good to allow a wet item to lay on the wood for lengthy periods of time.
Water under the sink can leak and spill onto the wood floor. This is not a problem unless you allow it to sit. Likewise splashing children getting out of the tub can quickly cover the entire floor. Again, the key is to not allow water to sit for a long time.
Watch for an uneven floor that may collect water at one side. This is not usually the case if the bathroom was correctly built, but a very small grade in the pitch of the floor, unnoticed to people, can collect hidden water behind toilets, etc.
Soaps, shampoos, and other cleansing chemicals can damage wood. Keeping them off the wood is the safest option.
The biggest advantage of hardwood is that it can be really beautiful. It lends a sense of nature and wonder to a space, while also providing an environment with a unique personality, that can be seen in the one of a kind features found in every plank.
Enjoy your magnificent bathroom hardwood flooring project. It's worth the cost and effort, and it will certainly increase the value of your home.
https://www.tampaflooringcompany.com/wp-content/uploads/2017/09/GMF-Blog-Bathroom-Hardwood-Flooring.jpg
546
800
Thais Sousa
/wp-content/uploads/2017/12/gomobileflooring-logo-new-small.png
Thais Sousa
2017-09-08 16:39:30
2017-09-08 16:39:30
Bathroom Hardwood Flooring