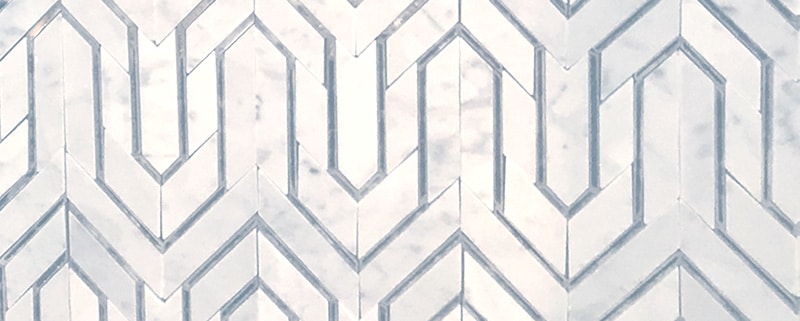 Interior design and home decor are an unlimited process. You are your own designer and the best part is, you can decide on how to bring your very own space to life. The way you design and decorate your home is what gives it a name and a personality. If you are one to make a bold statement, flash some attention with a patterned accent wall, a grand staircase, or your favorite wall frame. Lately, mosaic designs in flooring, walls, or backsplashes are a striking trend. Waterjet cutting for stone, tile, ceramics, or porcelain are the safest and most precise alternative for creating complex designs on hard materials in contrast to plasma torches, routers, or electrical discharge machining. There are plenty of intricate designs that waterjet can generate. Explore the following waterjet designs and benefits.
Abrasive Waterjet Cutting
The abrasive waterjet cutting method is ideal for tough and thick materials or the production of inlays. Waterjet is a computerized technology that cleanly and efficiently cuts through materials with the use of a high-intensity pump. This pump is able to generate water pressure up to 60,000 psi. In the process, a granular abrasive is added to the water stream. This accelerates the power of the stream, resulting in a precise cut. Abrasive waterjets can cut through:
Stone
Ceramic
Granite
Marble
Tiles
Engraved Artistry
There's no going wrong with marble, especially if you crave elegance. Waterjet can even engrave designs through these extremely hard materials. Spark a dramatic and powerful look by decorating your home with geometric and baroque inspired patterns. Bold statements like these are what turn an ordinary living space into a home.

Benefits of Waterjet Cutting
Waterjet can cut through materials considered "un-machinable" by other cutting methods. You can produce complex shapes or designs with accuracy and precision. Due to the cold-cutting method, waterjet cutting does not heat or distort materials, enabling a clear cut. This also reduces the risk of burns. Another major advantage of waterjet cutting is that it avoids hazardous waste such as fumes, gases, or chemical pollution. This tool will minimize the cutting process with a more defined result. Some additional benefits are the following:

Precise finish
Reduced waste of raw material
No toxic fumes
No blade
Able to cut through tough materials
Eliminates the risk of discoloring or deformation
Mosaic Patterns
Whether you want to create chevron or quatrefoil for a design, waterjet will do the job. It can produce geometrically detailed patterns to create that accent wall or flooring you've always dreamed of. In addition, if you or other homeowners are struggling to find the tools needed to make a section of your home stand out, waterjets can produce your very own custom design.
Layered Tiles
Popular in ceilings and walls are layered designs. This is one way of providing an effect of illusion and depth in the room. Also, choose how you want to sculpt the material, whether it is marble or ceramics. With the layering of the material from the waterjet, you can bring lasting dimension and art to your living space.
Metallic Tiles
Metallic designs are a very trendy and modern alternative to consider. The capabilities of waterjet are endless. It can even handle metal materials! The use of metal in your home will bring reflective elements and natural impressions that no other material will.
Making Dreams a Reality
At Go Mobile Flooring, we serve others to give them the greatest result. What you've once dreamed of, we can make happen. With a simple call or online quote, we can start your next project. See our limitless varieties when we bring our mobile showroom to homes in the Tampa area. Contact us today for more information.

https://www.tampaflooringcompany.com/wp-content/uploads/2019/04/GMF-blog-Waterjet-Marble.jpg
546
800
Thais Sousa
/wp-content/uploads/2017/12/gomobileflooring-logo-new-small.png
Thais Sousa
2019-05-09 10:30:39
2019-05-10 09:27:58
Waterjet Mosaic Design